Where to eat in Con Dao ?
Overview of Con Dao
Con Dao is a peaceful island located in the south of Vietnam, 178 kilometers from the sea, from its native province, Ba Ria-Vung Tau. Since its recognition as a destination of choice, Con Dao has dominated all categories with its pristine beaches, beautiful forests and peaceful atmosphere, but also its friendly locals and succulent dishes, including seafood. below my recommendations on the best places to eat to make your getaway on an even better island!
>>The Ultimate Guide to Nightlife in Hanoi
Breakfast
Bun Rieu Cua Ba Hai Khiem (Crab Noodle Soup)

Bun rieu cua is a tasty dish made of tomato broth, crab cakes, frozen blood cubes and crushed freshwater crabs. Originally from South Vietnam, this candy has spread not only in other regions, but also around the world. Preferred by locals and strangers, it is easy to understand why this Con Dao place is still out of stock so early in the morning. In addition, it costs only 30,000 VND ($ 1.4 USD) for a large bowl, so it is best to get up early to taste its incredible flavors.
Bun rieu cua has spread not only in other regions, but also around the world
MORE INFORMATION
Google Maps Location: Bun Rieu Cua Ba Hai Khiem
Opening hours: 6am – 11am (but you should come here before 9am)
Com Tam Thao (Grilled pork with broken rice)
If you miss the irresistible com tam of Saigon, this Con Dao food store will satisfy your needs! Delicious egg meatloaf, well-cooked fractured rice grains and, of course, a large pork chop grilled on warm charcoal, this dish prepared in this store has become a familiar place to enjoy a full breakfast. And when you dip the grilled pork into the salty and sweet fish sauce, grab a bite, then fill your mouth with a tablespoon of rice, you'll realize that paradise is nowhere: that's where you are sitting! A dish of com tam can be as cheap as 20 000 VND (85 cents). It's such a good deal, is not it?
MORE INFORMATION
Google Maps Location: Com Tam Thao
Opening hours: 6h – 22h
Bun Mam Thi Bich (Vermicelli soup thick fermented Vietnamese)
If you like the unique smell of fermented fish paste, bun mam will certainly be your favorite. A full bowl of mam brio never misses tempting shrimp, rubbery calamari, lean fish or a fish head, and comes with a bunch of eggplant, bean sprouts, coriander, mint and other local herbs. This dish is truly a gift of water that brings you closer to the sea, so while you're at Con Dao, do not forget to try this specialty at Bun Mam Thi Bich. The food stand opens before sunrise, which also means they sell early. To make sure you take a bowl of mam bread, it is necessary to arrive before 7:30. A morning walk in cool weather is never a bad idea, so go for it!
MORE INFORMATION
Google Maps Location: Bun Mam Thi Bich
Opening hours: 4h to 7h30
Pho Bac Gia Truyen

Although Con Dao is a small island, pho – the country's legendary noodle soup, still has a place and plays an important role in portraying traditional Vietnamese cuisine. Pho Bac Gia Truyen focuses on the flavors of North Vietnam, where the pho is from, and on the generosity of South Vietnam by proving its share of fresh herbs and bean sprouts. Do you like moderately rare beef pho, cooked beef pho or oily breast pho? This store has them all! Save a few dollars for a mouth-watering bowl of pho, you will not regret it.
MORE INFORMATION
Google Maps Location: Pho Bac Gia Truyen
Opening hours: 6h – 22h
Breakfast
Food store Thuy Tien
Vietnamese love rice so much that we make it our main carbohydrate. At lunchtime, you can easily see people, no matter what their age, gender, or profession, gather around lunch, and consume huge amounts of rice with joy. At the Thuy Tien food store, they sell a variety of authentic Vietnamese dishes to eat with rice, such as tofu and sautéed tomatoes, poached ribs, fish and chicken. And for a dish full of delicious food, it will cost you only 1.7 USD (35 000 VND). Also, if you bought seafood at the market, you can ask the owner to cook it here. Is not it practical?
MORE INFORMATION
Google Maps Location: Quan Com Thuy Tien
Opening hours: from noon to night
Food shop Ba Mien
If you are hungry after visiting some of the main attractions of the island, such as the Central Market, Con Dao Prison or Con Dao Museum, go immediately to the Ba Mien Food Store! This food store not only offers different types of side dishes with amazing flavors, it also offers you a pleasant space to relax after excessive activities. Let's eat at your leisure and feel the hospitality of the local people!
MORE INFORMATION
Google Maps Location: Ba Mien Food Store
Opening hours: from noon to night
Snacks
Che Thao Lien (Vietnamese soup with sweet oatmeal)

If you love sweet teeth, never miss the chance to try che – the Vietnamese soup sweetened with oatmeal. It is often prepared with glutinous rice and different kinds of beans or fruits, then boiled in water and sweetened with sugar. In South Vietnam, it is often garnished with coconut cream, which creates a pleasant smell and an easy taste that you will never forget. The price is only 10,000 VND (45 cents), making Quan Che Thao Lien a favorite spot for travelers and local people, especially young people. You can also try yogurt with jackfruit, organic fruit juice and tropical smoothie here.
MORE INFORMATION
Google Maps Location: Che Thao Link
Banh Xeo Chao Vit Kieu Tam (Sizzling pancake and Vietnamese duck pancake)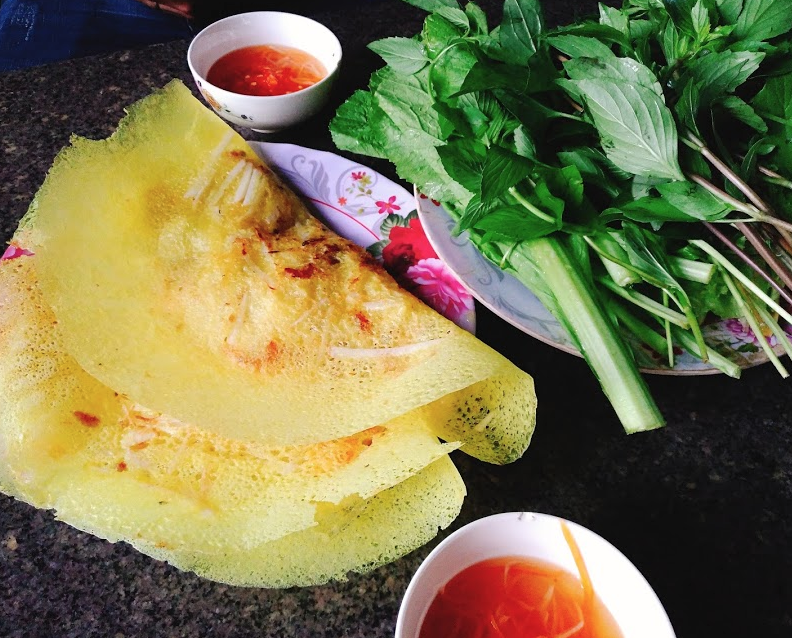 As inviting as its name, banh xeo (sizzling crêpe) wins all the hearts of gourmands, even the most difficult ones. This delicious Southern-style crepe is mainly made from rice flour, coconut milk, turmeric, chopped green onions, and stuffed with pork, shrimp and cooked bean sprouts.
People say that the best place to eat this dish on Con Dao Island is the Kieu Tam food store, and I agree with them! It only takes a dollar to get a succulent pancake, but if your stomach is not full yet, challenge yourself with a large bowl of chao lives (Duck porridge) which is only 40,000 VND (1.8 USD). Are you ready to do anything?
MORE INFORMATION
Google Maps Location: Banh Xeo Chao Vit Kieu Tam
Opening hours: from 14h to 23h
Sea food
Restaurant Thu Ba

Thu Ba Restaurant is always on top of the best restaurants on Con Dao Island. Whether it's fish, crab, seafood, lobster or squid, this restaurant has them all! Provided by local fishermen and prepared by the skillful chef, the delicacies here will satisfy your taste buds from your first bite.
MORE INFORMATION
Location Google Maps: Restaurant Thu Ba
Opening hours: 10:00 – 23:00
Con Dao Market

A rule of thumb is to never skip local markets when traveling, especially if you want to deepen your cooking, lifestyle and culture. The Con Dao Market is a visitor's paradise where you can find the best food, seafood and souvenirs at a reasonable price. In addition to the muc word nang (dried squid), the hat bang kho (dried almond of the country) is a specialty of the island. It perfectly combines crunchiness, flavor and nutritional value, so do not forget to try it yourself.
MORE INFORMATION
Google Maps Location: Con Dao Market
Opening hours: Most of the time, all day but most frequented from 5:00 to 10:00 and 16:00 to 18:00
Fishing village of Con Dao
What does a fisherman's life look like? Take a morning walk to the fishing village of Con Dao and find the answer yourself! This is an amazing opportunity to watch the fishermen at work and see the joy on their faces up close. Do not forget to buy some because the best seafood is nowhere else. It's here!
Bar / Cafe
Coffee Con Son
If you ask me where the locals start their day, the answer is the Son Son coffee. Just steps away from the marvelous beach, this café will expand your Vietnamese drinks horizon. Ca phe sua da (frozen coffee with condensed milk) and ca phe phin (filter coffee) are the most popular products of the locals, so do not be afraid to try them! Sit in the shade of the trees, sip a cup of coffee and admire the distant ocean view.
MORE INFORMATION
Google Maps Location: Con Con Cafe
Opening hours: 6h – 23h
Infiniti Cafe & Lounge
Infiniti Cafe & Lounge is another option to spend a happy day in Con Dao. Do not worry about the quality at all since Lonely Planet has ranked this place as one of the must-see places on the island! The atmosphere is so comfortable and relaxing, not to mention the food, which is superb and enticing.
Lonely Planet has ranked this place among the must-see places of the island!
MORE INFORMATION
Google Maps Location: Infiniti Cafe & Lounge
Opening hours: 7h – 23h
Vegetarian food
Chay Con Dao in good health
If you are a vegetarian, finding a place to eat may seem a bit difficult. But do not give up too early, because at the Healthy Vegetarian food store, you can face all Vietnamese dishes at a reasonable price. The menu is very varied, from tam-tam (broken rice) to hu-tiu (rice noodles), banh uot (rice cake steamed) and dozens of other delicious dishes. Come here and try Vietnamese vegetarian cuisine!