Trang Tien Ice cream and Thuy Ta Ice cream in Hanoi
Trang Tien Ice cream
On the way to visit Hoan Kiem Lake, you can see a famous ice cream shop named Trang Tien ice cream. Ice cream is a great dish for everyone to enjoy, especially on hot summer days in tropical countries like Vietnam, and Trang Tien is one of the most famous ice cream brands in Hanoi. Trang Tien Ice Cream is located at 35 Trang Tien and is open from 8am to 9pm daily. Trang Tien ice cream is very reasonable, only about 7,000-8,000 VND/unit. Therefore, Trang Tien ice cream is still very popular until now although it is not served in luxurious places or there are many versions with many attractive flavors and colors like other types of ice cream. The popularity of this simple dish is also largely due to the traditional sweet taste with the familiar but attractive aroma, suitable and great for people of all ages.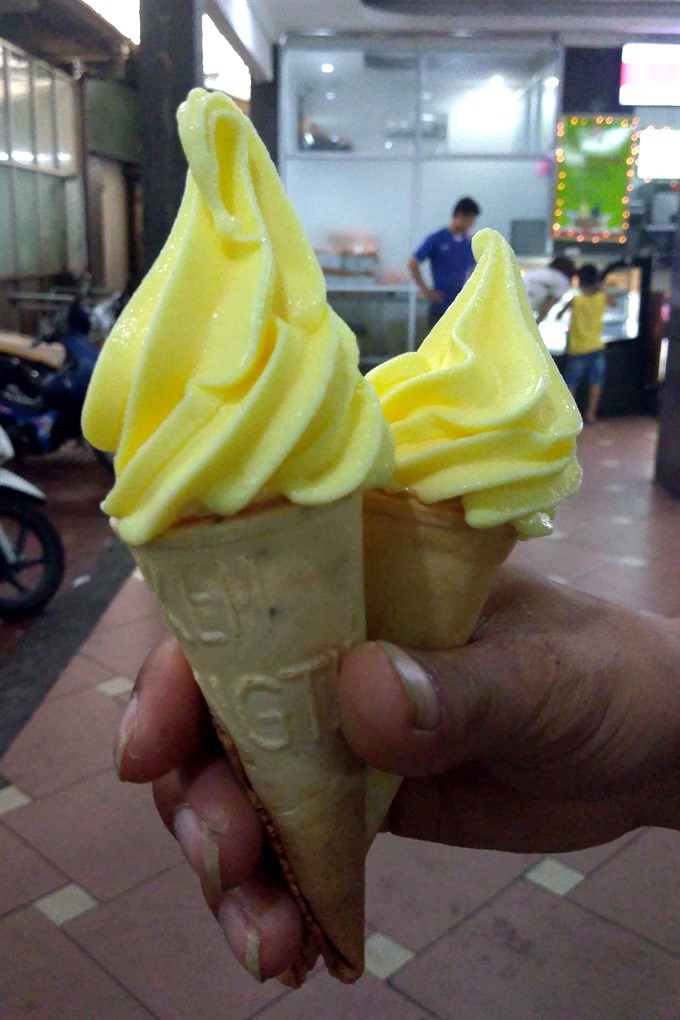 Trang Tien ice cream is famous for many different flavors including chocolate, young rice, coconut milk, and green pea. Since its first appearance in 1958, Trang Tien ice cream has maintained a reputation for its exceptional quality and taste. Although famous, the price is very reasonable, anyone can enjoy it.
Trang Tien ice-cream shop is always full, especially in the afternoon. People lined up from outside to buy ice cream.
Trang Tien Ice-cream is listed on one of the must-try dishes when visiting Hanoi. There are no chairs so that Ice cream eaters on Trang Tien Street have to stand and enjoy the cool and sweet taste melting on the tongue. Even though it is a bit inconvenient, a lot of people come here every day.
Opening hours: 8:00 AM – 9:00 PM Everyday
Address: 35 Trang Tien, Hoan Kiem, Hanoi
Thuy Ta Ice Cream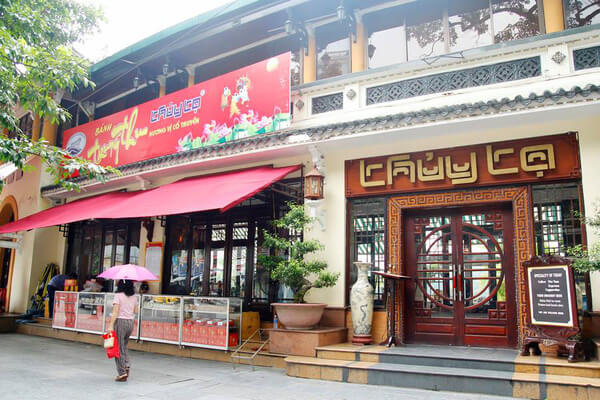 A famous ice cream parlor along with Trang Tien ice cream is Thuy Ta Ice-cream. Thuy Ta ice cream is sold at Thuy Ta restaurant on the edge of Hoan Kiem Lake. This ice cream company even has a longer history than Trang Tien ice cream, it was first put into operation from the 1940s of the last century.
Thuy Ta ice cream is very popular. What could be more interesting than walking around Hoan Kiem Lake in hot summer days with frozen treat. Thuy Ta ice cream shop is more spacious and owns an open space than Trang Tien Icecream. You can stand right next to the counter to savor an ice cream or go a bit further, sitting on a bench or railing, under the root of some trees around historic Hoan Kiem Lake.
The most unique ice cream flavors of Thuy Ta restaurant are lemon-mint ice cream (kem chanh bac ha Thuy Ta). Being addressed as lemon-mint ice cream but it isn't too sour or spicy at all. A round, creamy blue popsicle, lemon just cool enough and minty taste. After eating the ice cream cone, the cool taste is still not melted. The most interesting thing here is that you can eat delicious ice cream sticks in the most famous lake in the country. And on beautiful weekends, you can listen to free music, watch the dancing of street artists.
According to many people, contrary to the conservative of Trang Tien ice cream, Thuy Ta ice cream tends to innovate more. The product has a lot of ice cream flavors and a reduced sweetness to suit the new taste.
The chain store systems of Thuy Ta Icecream are allocated in many parts of Hanoi, but still, the famous one is located at No 2 Ly Thai To, next to Hoan Kiem Lake.
Opening hours: 9:00 – 21:30