Hanoi Ceramic Mosaic Mural – World's largest ceramic record
Hanoi Ceramic Mosaic Mural
Guinness Record
Hanoi Ceramic Mosaic Mural or Hanoi Ceramic Road is a wall made of ceramic along the Red River dike system in Hanoi. With mosaic-filled walls representing Vietnamese history, culture and traditions, this is not only a gateway to the exploration of Vietnam and its people but also an exquisite work of art. and incredible. Nowhere in the world can tourists find such a long, beautiful and cultural street based on this.
Stretching nearly 4km along the Red River dike, from its end station at Long Bien Bridge, this mural project holds the Guinness world record for being the largest ceramic mosaic on the planet. The wall depicting different periods in Vietnam's history. Local and international artists started working on the project in 2007; the ceramic mosaic road was completed in 2010 for the celebration of Hanoi's 1000th birthday. The mural continues to grow as it has been recently added.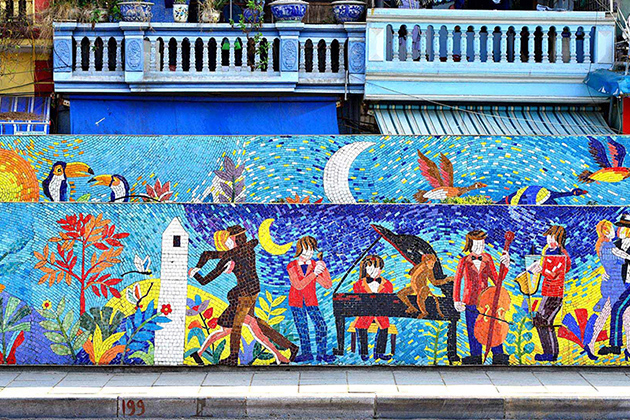 The content
The content of Hanoi Ceramic Road shows decorative patterns from different periods in Vietnamese history: Phung Nguyen culture, Dong Son culture, Ly dynasty, Tran dynasty, Le dynasty, Nguyen dynasty. Also incorporated on the wall are traditional Vietnamese architectural designs of 54 ethnic groups, modern artworks, paintings of Hanoi and children's drawings.
Part of ceramic illustration mural painted by children
Part A1 (at the intersection of Chuong Duong bridge): a mural of the historical flow from Dong Son period to the reigns of Ly, Tran, Nguyen and Le.
Part A2: a mural of Vietnam 54 ethnic groups.
Part A3: drawing of children based on the theme of Hanoi – the city for peace.
Part A4 to A9: Modern art by Vietnamese and foreign artists.
Now instead of tedious and trails along the Red River, people can travel with joy and excitement when looking at the colorful and well-designed walls on the road. Tourists can stop, take a walk and take photos along the way.
Original ideas of Hanoi ceramic mural
This crazy idea of ​​Nguyen Thu Thuy, a cultural and artistic journalist, was conceived in the idea of ​​turning the Hanoi dike system into a cultural rug instead of the boring gray concrete dike. Although the dike is believed to be 800 years old to protect Hanoi people from floods, this is truly an excellent work of art, taking advantage of Vietnam's rich history and the Hanoi Ceramic Mural. The brainchild of the great contemporary era.
After a long time of fulfilling this dream, Ms. Thuy has made it a reality with many practical steps, she started by presenting her project with Photoshop images at the Hanoi Embellishment Exhibition in March. 2007, and of course, the project was well-received. She then launched the new Hanoi Art Foundation, along with her partner, to oversee project implementation.
 Hanoi Ceramic Mosaic Mural's map
The wall road is stretched from An Duong border gate on Yen Phu road to Van Kiep border gate.
Recommended time to visit
If you want to enjoy the Hanoi morning atmosphere and get some sunrise photos on Long Bien Bridge, please come here at around 6:00 am.
However, if you are a nocturnal person, you can join in the cool atmosphere here at around 19:00 and then go get some beer on Ta Hien Street.
About traffic, it takes 15 minutes by car to Hoan Kiem Lake and there is also a bus number.55A which can take you there. After visiting the Ceramics Road, tourists can come to Long Bien Bridge, a historic cantilever bridge spanning the Red River.