3-Day Homestay Tour in Sapa – Vietnam
While traveling alone in Southeast Asia, I created a route to Vietnam that included some of the best things to see and do in the country. I had only two weeks to explore on my own, but I was determined to make a home visit to Sapa.
>>Cruise the Most Beautiful Motorbike Passes Across Vietnam
Sapa has become a popular tourist destination
Sapa has become a popular tourist destination for travelers from all over the world who hike on footpaths between the highland villages of the Hmong, Zao, Ta Van, Lao Chai and Y Linh Ho peoples.
The small mountain town is in northern Vietnam. The mist fills the sky and the lush rice fields cover miles in all directions. Honestly, you will not be surprised if a unicorn and a rainbow appear in the distance.
I arrived by night from Hanoi to Lao Cai City, where I took a bus about an hour to climb the mountains towards Sapa.
Hong picked me up directly from the bus and took me to a small hotel where I would spend my first night. We did not waste time. I took a shower, left clothes to wash, then Hong and I took the road on a motorcycle!
Ta Phin where live the inhabitants of Red Zao
Our first stop was down the mountain to a small village called Ta Phin where live the inhabitants of Red Zao. Women wear traditional clothes and are distinguished by their headdresses in red scarves.
The wife, her husband and three children shared their home with five other women. The Zao are known for their extremely complex embroidery work.
They showed me their small craft zone and I bought them a traditional scarf after having completely dressed me in one of their own outfits.
After leaving Ta Phin, we climbed for almost an hour up the mountain to see some of the incredible waterfalls of Sapa. We managed to arrive at a huge waterfall that overflows from the cliff to one side of a mountain called Silver Waterfall.
We still drove 20 minutes up the mountain to Heaven Gate, where we could see a trench in the mountains that seemed to drag on until it disappeared into the distant haze. A few minutes down the mountain and we reached another waterfall, Love Waterfall.
The waterfall fell on a mossy stone edge of the mountain and in an icy basin. I took off my shoes and let the cold water run down my feet as I contemplated the incredible creation of nature.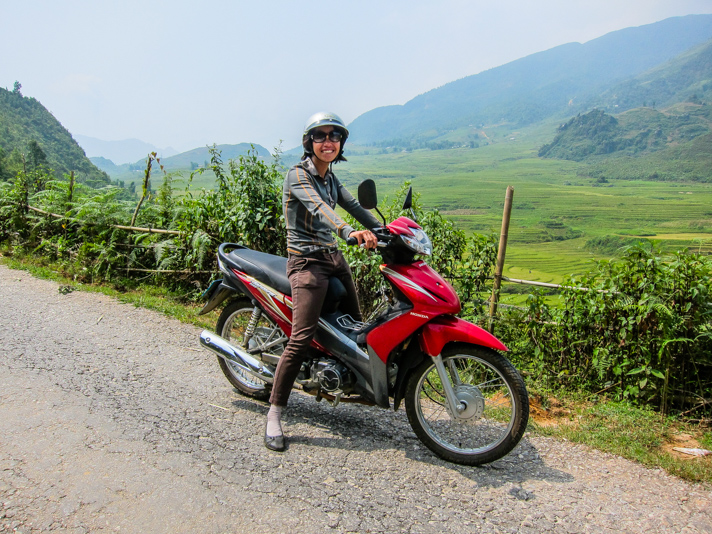 Hong took me back to my hotel once back in town and spent the evening walking around the pretty little streets. The city of Sapa has a lot of French influence and the buildings are all brightly painted with European-style balconies and tiled roofs of clay.
There is even a beautiful lake in the city center where there are flower beds, pretty little lamps and park benches, and even swan boats available for rent.